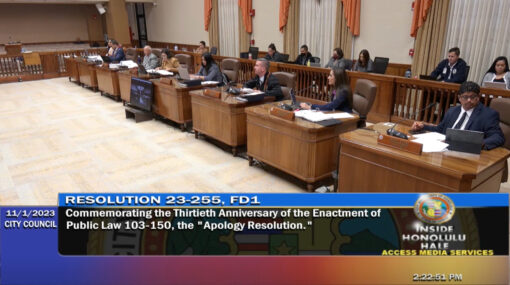 HONOLULU, HAWAI'I – November 1, 2023 – The Honolulu City Council convened in a special session to honor the thirtieth anniversary of Public Law 103-150, more commonly known as the "Apology Resolution." The resolution, introduced by Councilwoman Esther Kia'aina, the original author of the US Public Law 103-150 in 1993, reaffirms the commitment of the Nation of Hawai'i to its mission and strengthens the legal foundation for continued efforts.
Vice President Brandon Maka'awa'awa expressed deep gratitude for the diligent efforts of city representatives, stating, "Mahalo to our Councilwoman Kiaaina and Jocelyn Leialoha M-Doane for their hard work in passing Resolution 23-255 in the Honolulu City Council yesterday, recognizing the 30th anniversary of the signing of US Public Law 103-150, the Apology Law."
The Apology Law, a milestone in acknowledging the involvement of the United States in the overthrow of the sovereign and independent Kingdom of Hawai'i, remains a pivotal legal cornerstone. It stands as the most comprehensive apology ever given by the United States to any people or nation for historical injustices.
"Utilizing the Apology Law, we've actively asserted our National sovereignty in various instances involving both state and federal governments," Maka'awa'awa remarked. "From reclaiming Kaupo Beach to securing 45 acres of Hawaiian National lands at Pu'uhonua O Waimānalo, this law has been instrumental in our pursuit of justice and sovereignty."
With the passing of Resolution 23-255, the Nation of Hawaii reaffirms its commitment to employing Public Law 103-150 to assert its sovereignty domestically and internationally. The resolution underscores the Nation's dedication to continuing education on the importance of reconciliation efforts, empowering victims of historical injustices to take proactive steps towards healing and justice.
For more information or media inquiries, please contact 808-673–6713 or email newsagency@nohgov.com.
— ### –
About The Nation of Hawai'i
The Nation of Hawai'i was promulgated on January 16, 1995 and is located on 45 acres at Pu'uhonua O Waimanalo on O'ahu, Hawai'i. The official language is 'Olelo Hawai'i
Nation of Hawai'i's mission is to restore, maintain and preserve the sophisticated religion, language and culture of the Native Hawaiian people, who prior to the overthrow, lived in a highly organized, self-sufficient, subsistent social system based on Communal Land Tenure. (pre-mahele.) For more information and ongoing development of the Nation of Hawai'i's journey of independence, visit www.nationofhawaii.org.